Techsealab is a Breton company providing both marine and terrestrial plant Biotechnologies.
Introduction
Our main activity consists of implementing the following technologies :
Through our own technologies, we develop and distribute original active ingredients in liquid, solid or cream form. These ingredients are made up of rigorously selected raw materials, harvested in an exceptional site located in the south end of the Finistère.
The formulation of finished products dedicated to wellness, nutrition and agriculture markets.
We are experts in our field with professional know-how. We have constant respect for the environment and are committed to continuous innovation.
Our core values
To propose natural alternatives by valuing local algae and plants.
To develop our solutions by implementing a constant dynamic evolution of our high value-added products.
To respect mankind and the environment by using selected plants, natural raw materials in order to design our products for traditional and organic agricultural sectors, food-processing industries and wellness and nutrition sectors.
International scope
What our customers highly value, is not just our diverse range of products, but our high standards and efficient services as well.
Our natural alternatives meet our customers' needs throughout the world which proves our international scope.
Indeed, concerned about the natural environment, we have adopted and implemented an international communication policy in order to satisfy a growing foreign demand in a fast-paced world.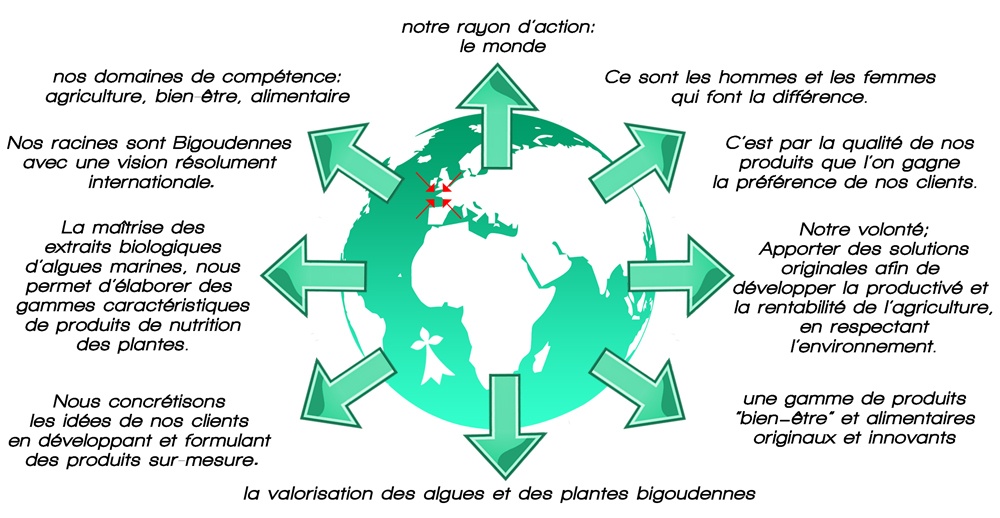 Our actions
Agriculture
Our team develops agricultural seaweed-based products dedicated to large-scale crops as well as specialised crops (arboriculture, viticulture, green spaces, tree nurseries…).
Well-being
We design innovative well-being products for health centres (thalassotherapy and physiotherapy centres, beauty parlours) and also for individuals through our network of specialised retailers.
Food
We also offer a wide range of healthy food products (seaweed-based bread and pastas, sea water-based vinegars and cooking oils…).
One entity, three functions
Our Company formulates, designs and markets marine and terrestrial plant-based products for various sectors of activities such as agriculture or food industry.
Raw materials manufacturing
We develop and supply numerous customers with innovative active ingredients that are used to make different products.
Job processing
We realize our customers' ideas or needs by developing and designing their products. Consequently, we provide the appropriate means, expertise, know-how and facilities
Production site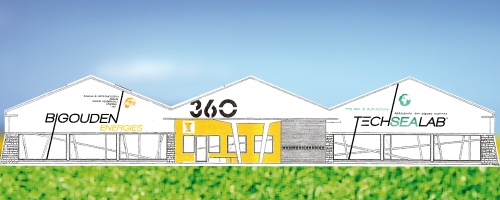 Today, the region of Brittany represents 90 % of algae domestic production.
Naturally, we decided to establish our production site in Penmarc'h, port city of the Pays Bigouden also known for its marine biodiversity.
Our activities benefit from a proud and deep attachment to our locality well recognized for algae cultivation and harvesting.